Get accurate, in-depth body composition analysis in seconds!
Styku body scanner lets you begin your wellness journey with a clear picture of your current body composition, including weight, measurements, body fat percentage, and more. Knowing where you are will make it easier to set goals and track your progress along the way.

Styku 3D body scanner doesn't rely on Bioimpedance Analysis (BIA) like other body scanners. Instead, it uses multiple infrared scans to form a virtual 3D model of your body in just seconds.
Styku uses a complex equation originating from scan comparisons done with DEXA scans. DEXA scans provide the most accurate picture of the body's composition, making it easier to access than a CAT scan. In tests where participants got  DEXA body composition and Styku circumference scans to determine predicted body fat percentage. The comparisons revealed correlations between the two.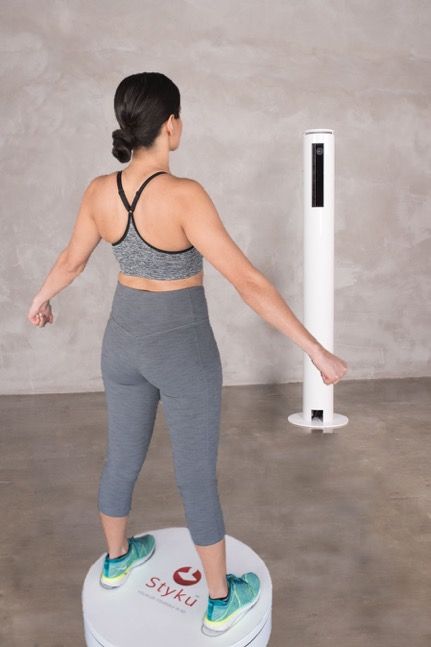 What Does This Mean For You?
A Styku body scan gives you a body composition result that's comparable to those provided by a DEXA scan. However, Styku is more affordable, doesn't require a prescription, and takes only 35 seconds to complete.
Need Self-Care On a Budget?
Apply for Financing Today
To prepare for your Styku 3D body scan, you will need to wear form-fitting clothing. Loose clothing can reduce the accuracy of your scan. Long hair must be off your neck and back, and shoes and socks removed. You will stand on the Styku turntable with an integrated medical-grade scale while holding your arms straight and to the side at a 45-degree angle from your body. You will remain in this position as the turntable does a complete 360-degree rotation. 

Styku will generate a detailed report that you can use to plan a strategy to achieve your wellness goals. We will review it with you and provide you with a copy via email.

Tape measures and weight scales often fail to give you an accurate picture of your progress. Periodic body scans allow you to precisely track your progress.
Think Styku could be the first step to achieving your wellness goals?
There's no need to leave Ocean County. We offer 3D body scanning in our convenient and inviting Toms River location. Contact the team at Spa Virtue to find out how Styku can kickstart and support your wellness journey.