The HydraFacial has quickly become one of today's most popular facials. This is not surprising, as the treatment is non-invasive, requires no downtime, and produces immediate results. As a result, more and more people are integrating the HydraFacial into their regular skincare routine.
HydraFacials can treat numerous skin conditions and improve all types of skin from dry to oily. HydraFacial treatments are also much gentler than many of its facial counterparts, like laser resurfacing or chemical peels. Unlike HydraFacial, these procedures often cause red, irritated skins for a significant period of time after treatment. Due to its effectiveness and its ability to produce immediate results, HydraFacials are one of the most popular skincare treatments among both teens and adults.
According to skin health experts, healthy skin requires hydration. A lack of skin hydration can cause flakes, dryness, peeling, scaly skin, or tightness. To combat dryness and promote skin health, Spa Virtue is proud to offer HydraFacial treatments.

Using patented technology, HydraFacial cleanses, extracts, and hydrates the skin. The HydraFacial treatment was specifically designed with wholesome ingredients to promote healthy, glowing skin.
The HydraFacial is known for its ability to enhance skin texture and overall appearance. It's able to do this because of its intense exfoliation and extraction process, which helps remove debris, cleanse pores, and allows tailored facial serums to penetrate deeper into the skin.
The three-step HydraFacial process helps treat many of the skin conditions experienced by many individuals today, including thin skin, wrinkles, breakouts, blemishes, and enlarged pores.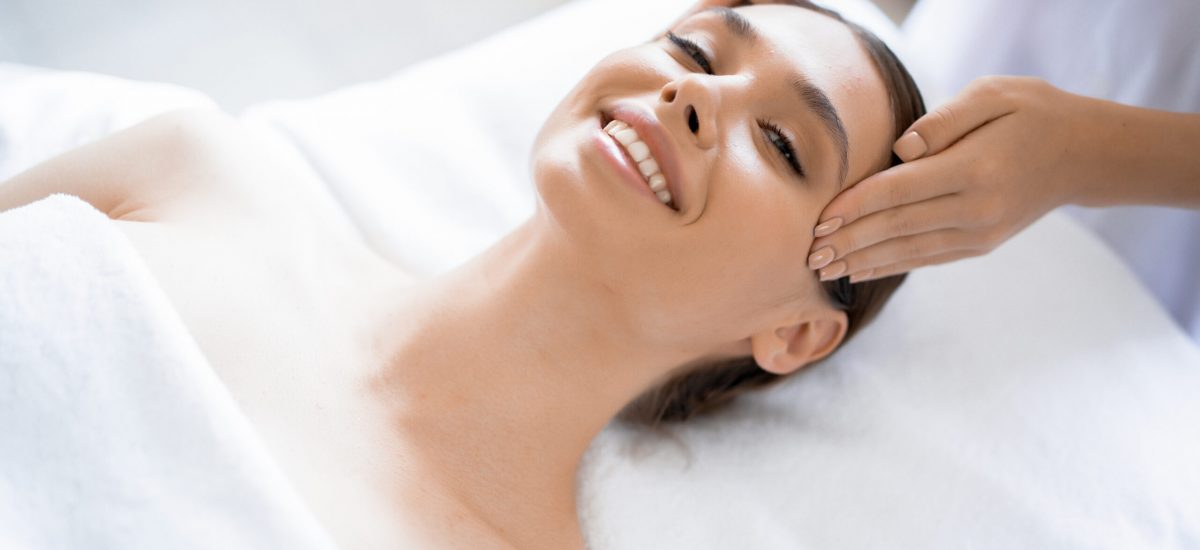 Unearth new skin layers during the exfoliation and resurfacing process.
Using painless suction, cleanse and soften pores. Nurture the skin with proper moisturization.
Maximize glow using antioxidants and peptides to saturate the surface of the skin.
Need Self-Care On a Budget?
Apply for Financing Today
HydraFacial differs itself from other hydradermabrasion procedures because of its Vortex-Fusion delivery system. This patented spiral design technology allows for gentle exfoliation, painless extractions, and intense hydration.
HydraFacial's vortex effect, used in tandem with proprietary serums, works to remove debris from pores and eliminate blemishes while hydrating the skin and promoting a healthy glow.
HydraFacials are non-invasive yet effective treatments for many known skin conditions today. There are many benefits of choosing a HydraFacial over harsher facial treatments, such as:

HydraFacial benefits all skin types and blemishes and is known to improve:
Wrinkles and fine lines

Skin texture

Brown spots

Enlarged pores 

Congested, oily skin

Firmness and elasticity 

Vibrancy and skin tone
A typical HydraFacial session takes roughly 30 minutes and, unlike chemical peels, requires no downtime. Clients are able to resume everyday activities immediately after the treatment. 
While there should be little to no redness and peeling post HydraFacial session, we still recommend avoiding exfoliation treatments for 2-3 days after the HydraFacial.
The frequency in which you should seek HydraFacial treatment depends on your individual skin type. Typically, we recommend repeat treatments every 2-4 weeks. 
All recommendations are made on a case by case basis.  As such, the number of sessions and frequency of treatment will be determined by one of our team members during your first HydraFacial treatment.
Spa Virtue offers competitive pricing for HydraFacial treatments. Packages available upon request.